Market Square® Vinyl Siding
Fresh and classically beautiful on the first day it's installed on your home, Market Square™ will keep its clean, sharp appearance from season to season, year after year. Unique performance features, like our WindBreaker® system make it impervious to wind and weather. It's the look you'll be proud to come home to for a lifetime.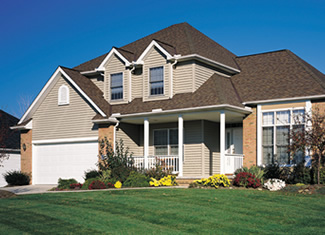 Tradition
The Crane tradition is three generations of commitment to hard work, fine craftsmanship and satisfaction in a job well done. The result is siding of incomparable quality, performance and beauty, backed by the strongest warranty in the industry.
Beauty
Extra-wide profile: Market Square's extra-wide 5/8" profile, with its square bottom edge creates sharp angles that cast deep, appealing shadow lines.

Market Square panels overlap perfectly so that all seams are tight, flat and virtually invisible. You see long, unbroken expanses of beautiful siding - with no ugly gaps.

Every inch of Market Square shows the textured grain of forest-grown cedar, and the low-gloss finish enhances this exceptionally natural look.
Performance
Our WindBreaker® nailing hem is built with a special rolled-over edge that doubles its strength and thickness - giving Market Square superior wind resistance.

The WindBreaker® system stands up to winds of 155 mph - winds that will wreak havoc on ordinary, weaker siding.

Market Square's exclusive Integri-Lock® system snaps panels securely together for a sound installation and attractive appearance. The result is straight plank-lines running the length of the house and matching perfectly at the corners.

Ordinary siding has a 3/8" S-curve profile. Market Square's extra-wide 5/8 profile, with its square bottom edge, maximizes rigidity and performance.
Warranty
Our Lifetime Limited Vinyl Siding Warranty is unequaled in the industry. Your Crane Vinyl Siding is covered by a limited lifetime warranty. Should you move, this warranty can be transferred to your homebuyer.
Maintenance-Free
Other sidings promise "low maintenance". With Crane Performance Siding® - it's NO maintenance. That means you'll never paint - so, you'll never scrape, sand, caulk, deal with a popped nail either. Our promise is complete maintenance-freedom - absolutely no painting - ever.

Available Colors