Why Use a Roofing System
Most people think of a new roof as just banging up some shingles. But savvy homeowners know better! Today, effective roofing relies on advanced material technology and an integrated systems approach to protect your biggest asset— your home.
Leak Barrier
Weather Watch and StormGuard provide exceptional protection against leaks caused by property movement and extreme weather. Recommended at all vulnerable areas of your roof (see usage chart below).

Roof Deck Protection Leatherback provides a second layer of leak protection under your shingles. Shingle-Mate (with special fiberglass reinforcement) provides great protection and also lays flatter for a better-looking roof.

Quality Shingles Choosing the right shingle can increase the value of your home. GAF offers you many great premium choices, including Timberline, the #1-selling architectural shingles in North America.

Effective Attic Ventilation Cobra and Master Flow vents help remove excess heat and moisture from your attic that can raise your energy bills, cause premature peeling of paint and wallpaper, and even effect your health
Distinctive Ridge Cap Shingles Similar to the way that a distinctive frame enhances a painting, Timbertex and PacificRidge can enhance the beauty and value of your home- while guarding against leaks at the hips and ridges.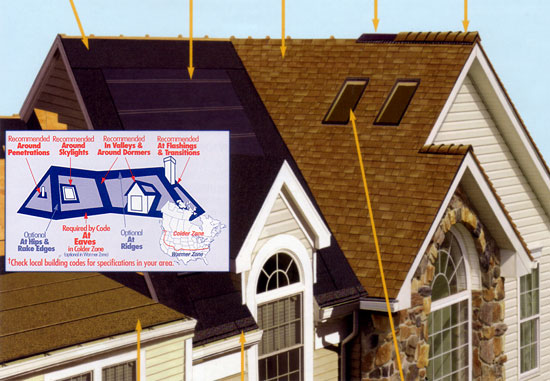 | | | |
| --- | --- | --- |
| Quality low Slope Roofing Membrane Liberty and Freedom commercial-grade self-adhering roofing systems are exceptionally dependable! They're safer too, because no open torches or hot asphalt are used. | Pre-Cut Qerter Strip Shingles GAF's pre-cut starter strip shingles save time, eliminate waste, and reduce the risk of blow-off by tightly locking the starter strip in place on your roof. | Premium Skylights HeavenScape Premium Skylights add the beauty of natural light to the interior of your home... with quality construction and protection you can trust. |


The Weather Stopper® Integrated Roofing System™ features:
Quality Components... from North America's largest roofing manufacturer
Proven Performance... on literally millions of homes nationwide
System Compatibility... all components are designed to work together for superior, long-term protection
Peace Of Mind... even carries the Good Housekeeping Seal—your assurance of superior quality